Work completed!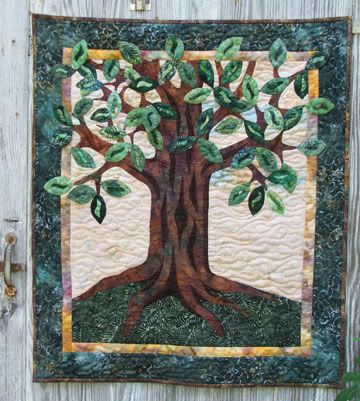 Yes, I've actually finished it, though I can't swear I won't do a bit more on the tree. I keep wanting to add a little something and then have to remind myself that the idea is to keep it simple. The last tree I did was about being on the edge of depression, this one is supposed to represent happier, simpler days. Simple pleasures with no dark clouds on the horizon.
It's hand quilted with some 3-D leaves, some embroidery and a little beading, just to give a little glint to some of the leaves.
I found out it's a lot faster to put my pics on Photobucket and then upload them to here from there. I was having no luck getting these to upload from my computer today, I tried changing the names, but it still didn't want to cooperate. So that's something to try if blogger won't take your pics.
I also made these postcards in the last few days for
FFAC
. I really like making these, I can try a lot of different things, play around with some fabrics I've been wanting to use, and they don't take forever to get done.