I've been tagged by Chris at
Cats on My Quilts
, so I've been trying desperately to think of 7 things about myself. I thought I'd do some research by reading what other bloggers wrote, so then I got involved with reading everyone's blogs and jumping to other blogs that they had links to, and the whole evening was gone. I have to watch it when I get started on blog reading or I might be lost for days. I'll If you haven't visited Cats on My Quilts, check it out, I really enjoy it. Just be careful of her "Nice Places to Visit" list on the right sidebar, as you may have lose a few days yourself!
Anyway, here's the deal~
The rules of the meme are:
1. When tagged, place the name of the person and URL on your blog
2. Post the rules on your blog
3. Write 7 things about yourself
4. Name 7 of your favorite blogs
5. Send an e-mail letting those bloggers know they have been tagged
Now about ME......
1. I home schooled two of my kids, my oldest elected to stay in public school, but now he says he wish he'd done homeschooling, too.
2. I collect old school readers and children's books, I love reading the old stories and am fascinated by the illustrations.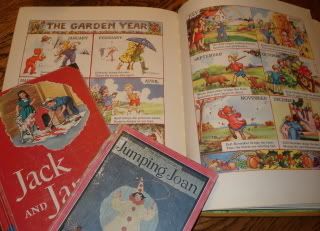 3. Sometimes I seriously wish I had been born Amish. As it is, I couldn't live that way because I'm too spoiled by air conditioning, ipods & the like, but if I'd grown up without electricity I think I would really enjoy that life.


4. I love puffins. I have no idea why, maybe it's their bright colors, or their funny beaks, or because they look like stuffed toys, but I find them quite charming.

5. Besides quilting, genealogy is another passion of mine. My husband doesn't get it, he calls it "digging up dead people", but to me it's like a big treasure hunt.
6. I LOVE to read, be it biographies, murder mysteries, history, love stories, or whatever. Between my Dad, my daughter & I, I'm pretty sure we have more books than some libraries. I really enjoy Earlene Fowler's quilt-related mysteries (my youngest son laughed out loud when he was at a book store with me & I told the person at the store that the book I was looking for was a quilt-related murder mystery, the brat!) For some reason he thinks I've gone over the bend when it comes to quilting, I can't imagine where he gets that idea.
7. I was fortunate enough to be able to help my daughter deliver her baby about a week ago. That wasn't the plan, she was going to just have her hubby there, but she had a hard time & needed the extra support. It was amazing!
">

Now for 7 of my favorite blogs....that's a difficult one as I have a long list of blogs I read regularly. I love reading Jenny Bowker's blog,
Postcards from Cairo
.

She lives a very interesting life and I enjoy living vicariously through her. Be sure to check out her quilts if you haven't seen them before, they're amazing.
Jenny at
Allsorts
has such a creative, fun blog, it's really eye candy. It cheers me up just perusing her blog.
Another one I enjoy is
Ann Wood
, just look all the way back, her creations are wonderful.
If you haven't been to
Crazy Aunt Purl
, go now & laugh!
Usually I like a lot of quilt content, but I really enjoy this blog,
Happy Things
. And how cute is
this
? I saved one of my faves for last,
Posie Gets Cozy
, you probably already read hers, but if you've missed it you should definitely stop by for a visit.
You'd think with as much as I've been stuck at home lately because of all the snow we've had that I'd be getting a lot of quilting projects done. I did have that bad flu that's going around, but I have no excuses for all the other days. I think all these dark days are getting to me, I need an infusion of spring to get me going. I need to write up a list of things to get done, then maybe I will quit jumping in different directions and starting new projects when I have too many that I need to finish already. I have done some hand quilting on a UFO and have been working on the Carr family photo albums that I'm making for my kids (I'm doing three of them, so it's slow going). I've also spent as much time as possible holding my new grandbaby, she's such a little angel. She's changing already, though, and she's not even two weeks old!